Next Page (2/9): Upgrade Options –>
Project status: Project Completed
Project first started: Fall 2002
Project finished: Summer 2004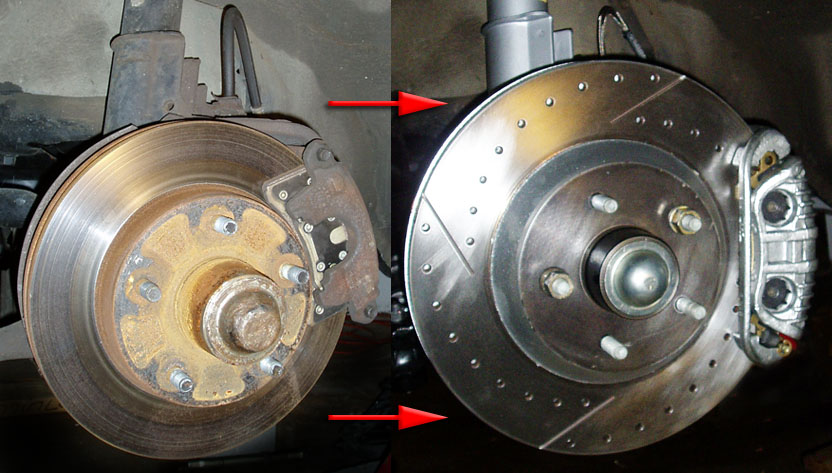 Overview:
These pages outline the process to go about upgrading the front brakes on a third generation GM F-body (82-92 Camaro \ Firebird).  First I would like to thank the many people over at TGO who have helped make all this possible.  This wasn't a one man project but a collaborative effort between many people.
History:
This whole project started after I took a good look at my brother's car's brake setup.  At the time he had a 92 Camaro with a Baer 12 inch brake setup.  Since Baer uses PBR & GM parts I knew there had to be a low cost way to get Baer equivalent brakes using factor GM parts.  After a lot of research, I discovered that the Baer brake spindle mounting bracket has the same bolt pattern as the 88-96 C4 Corvette caliper carrier.  There were three main issues that need to be solved in order to mount these brakes.  First the spindle had to be modified to allow an bracket to be mounted so the corvette brakes could be mounted.  Second a bracket had to be designed.  And third a way to mount the corvette rotor to a F-body spindle had to be found.
At the time I figured all I would have to do is make a copy of the Baer bracket and I would be able to mount a corvette caliper to the F-body spindle.  It turned out the Baer bracket is designed for a bigger caliper carrier so the bolt holes on the spindle bracket had to be moved in order for the caliper to sit in the proper location on the rotor.  The other big problem was how to mount the corvette rotor.  Thirdgen F-body rotors have the hub cast in the rotor where on the corvette and the Baer setup there is a separate hub that the rotor mounts on top of.  I realized that a F-body rotor could be machined down into just a hub so that the Corvette rotor could slide over the machined hub.  This process is explained in detail in the following pages.
 Next Page (2/9): Upgrade Options –>
Page created: January 2006
Page content last updated: September 2011